First: Yeah… new year, long time no see, I get it. I've been working on a lot of things here, as well as, well, work, since bills need to get paid, all that fun stuff. Hopefully I can get that all sorted out soon, and I have a massive backlog of things to put up. But for now, we're starting with this.
In my various other posts, you might have picked up on the fact that I'm a Nikon person. And until now, all product shots you've seen here, from item galleries, to Hackintosh shots1, it's all been off that camera. Until now.
As you can see above, that's a D7000 sitting nice and pretty, Which is an upgrade in pretty much every way, shape, and form.
I'm not going to get into every spec, but here's some of the highlights:
16 MP (4,928 x 3,264 pixels) CMOS sensor with a 14 bit ADC, vs. 10 MP (3,872 x 2,592 pixels) CCD sensor
39 point AF with 3DAF, vs. 11 point AF
ISO max of 6,400, then up to 25,600 as "Hi 2.0", vs. max of 1,600, then up to 3,200 as "Hi 1.0"
Shutter speed max of 1/8000, vs. 1/4000
2,016 segment RGB 3D matrix metering, vs. 420 segment RGB 3D matrix metering
2 SDXC slots vs. 1 SDHC slot
Runs off a 13.3 Wh EN-EL15 battery, vs. a 11.1 Wh EN-EL3e battery
Video! 720p30 or 1080p24
Multiple release modes: singular, continuous low, continuous high, quiet…, vs. single, or continuous.
LCD on the back can be used to display live status information usually found on the top LCD.
This thing is fast. All other factors not being an issue, it can take shots faster than I can press the shutter release. It's high-speed continuous mode clocks in at 6 fps!
It also wouldn't be a camera post without some shots from each, so have this. Note that all pictures that you see are resized. If you want the full resolution ones, click to zoom in on one.
Comparisons
Being completely honest, I kinda botched the Titus shot on the D7000, but either way, in the format that you're going to be seeing (tiny images optimized for size and transfer speed), both are overkill, and both are getting brought down to the same common denominator, so I don't think a direct comparison really gives any real information. Anyways here, have a D7000 video clip:
And now, for some general product shots:
D7000
D80
Now, technically, this is a product line downgrade since, at the time, two-digit models were Nikon's "pro" line (that's been replaced with one-digit models, like the D5), and, as is still the case today, their four-digit models are more of the "consumer" line, but given the multiple years of difference between the two, overall, it's still a complete upgrade, product line change or not.
One minor gripe I have is this: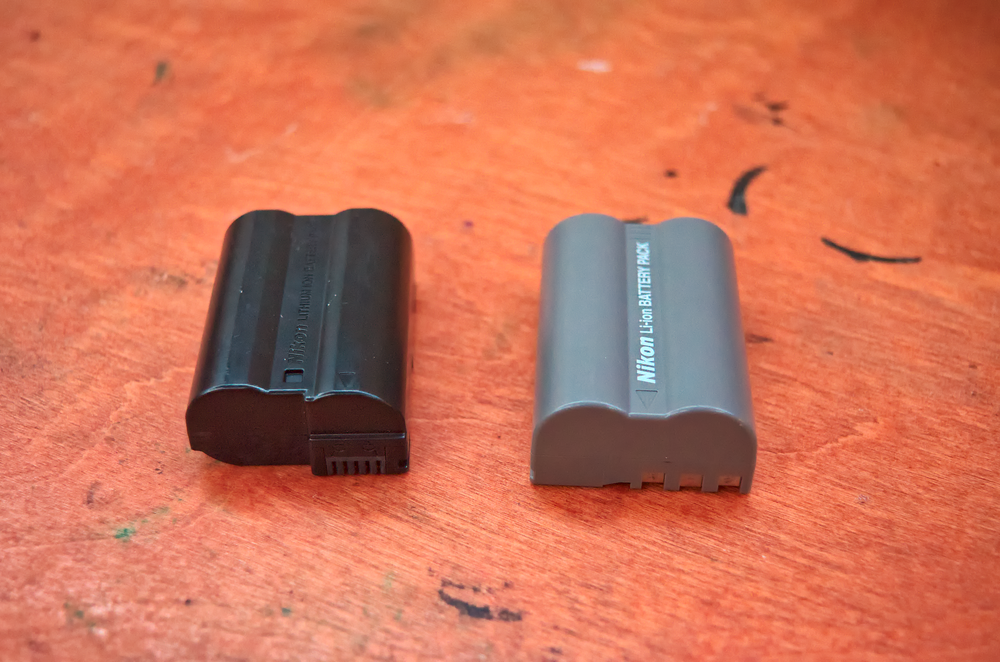 The batteries. The batteries are not compatible, the gray En-EL3e on the right goes to the D80, and the newer EN-EL15 on the left, in black, is the D7000 battery. Now I do like that the 15s are 13.3 Wh, compared to the 11.1 Wh of the 3es.23 But regardless, the lack of compatibility means you'll need new batteries, a new charger, and… yeah. You need new products for innovation, I get that, but I'm just a little bit disappointed that there's not even some possible backwards-compatibility.
On the topic of batteries though, and something that I don't have a picture of, the battery compartment in the D7000 has a tiny little catch, meaning the battery is kept inside the camera until you manually release that catch, unlike the D80 where it will just straight fall out of the camera the moment you open the door to the compartment since there's nothing to keep it in except the battery door.
So realistically, I'm trying not to make this just a large ramble for photography people, I mean, this is mostly a tech blog, despite formally being an "anything I want" blog, but… Well okay. For most people that are reading this, besides some higher quality shots for the occasional gallery post, you're likely not going to really notice anything special. For me, I'm just happy about my New Toy™ If you are a photography person, despite being a decade old at this point, the D7000 is a camera that still very much holds its own today assuming you're not looking for something seriously high-end. Its video mode is a little behind the times, but at this point, your phone would produce better videos in the first place.
Anyways, pictures are all there for anyone who's interested to look over, but that's all I have to say about this one right now… Though I do have another piece of gear arriving that will lead to more pictures, hah.
---
Psst. Currently re-working the guide for OpenCore, if you're not aware! ↩︎

The e at the end of 3e means that it has some integrated electronics, which gives it that 3rd contact in the center. Before, the EN-EL3, had no monitoring electronics. ↩︎

And even more than that, I'm using some pretty reputable off-brands which are 14.7 Wh, instead of 13.3. ↩︎