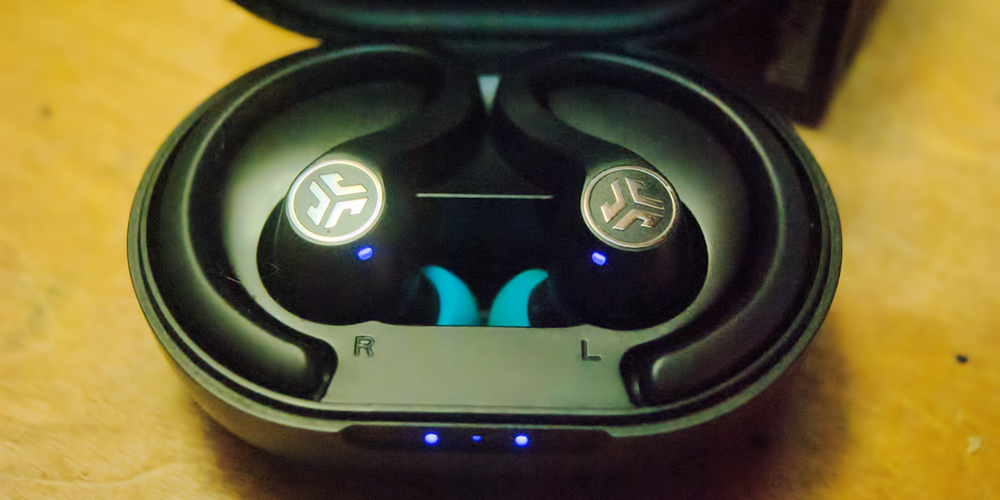 Table of Contents
Believe it or not, these are actually really good to my ears. And it gives me to do the chance to do something I love: point out where an Apple product is objectively over-priced for what it is. Anyways, let's get on with it.
Available for only $69nice , these little things are sweat and dust resistant, claim to have 34+ hours of battery life, and do a whole load of cool things. I'm going to run a quick comparison with the crApple AirPods:
| Feature | Air Sport | AirPods | AirPods Pro |
| --- | --- | --- | --- |
| Price | $69 | \$159 ($40 extra w/ wireless case) | $249 |
| Fit | Customizable | Fixed | Customizable |
| Support | Over-ear hook | None | None |
| Noise cancellation | No | No | Yes |
| Equalizer | Balanced, Bass, JLab Sig. | None | Adaptive |
| Sweat resistance | IP66 | No | IPX4 |
| Bud battery life | 6 hours | 5 hours | 4.5 hours |
| Case battery life | 34+ hours | 24+ hours | 24+ hours |
| Bud weight | 8 grams | 4 grams | 5.4 grams |
| Case weight | 75 grams | 40 grams | 45.6 grams |
| Charge rate | 15 min = 1 hour | 15 min = 3 hours | 5 min = 1 hour |
| Connectivity | Bluetooth 5.0 | Bluetooth 5.0 | Bluetooth 5.0 |
I'm pretty much going to run down these features (and a few more) one by one.
Fit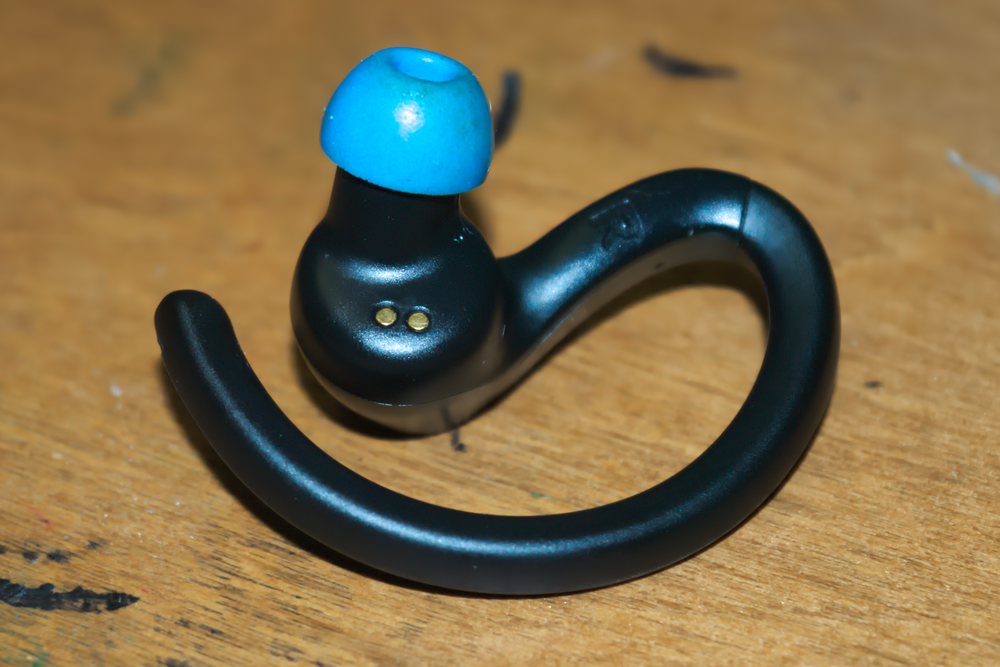 The standard AirPods have no way of modifying their in-ear fit, they're just a hard plastic shell around a few speakers and microphones that you put in your ears. The AirPods Pro do have interchangeable tips that can be used to adjust the in-ear fit. The Air Sport come with three sizes of rubber (silicone) tips, and one blue set they call "Cloud Foam™". This is really just memory foam, much the same that foam earplugs are made of. Personally I think these fit the best, since the foam will compress and then re-expand to perfectly fit and seal in your ear, as, well, that's kinda the point of that material in the first place.
Also of note, the Air Sport have a little hook thing that goes over and behind your ear, meaning they have a little support besides just being placed in and somehow not falling out. This does mean that they're not as simple to insert, since you kinda have to press them in and then spin them around until it's upright.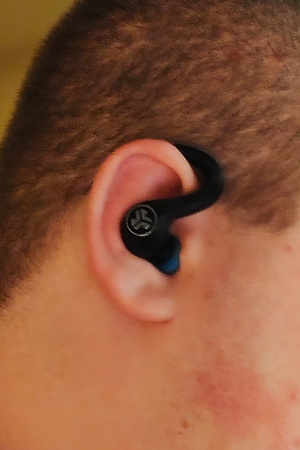 Noise Cancellation
Only the AirPods Pro have active noise cancellation, though in my experiences, the Air Sport do a pretty good job of blocking out other noise passively, especially when playing something. They do have one advantage over regular AirPods though: because of the fact that they are meant to seal against your ears, they do a better job of blocking out sound by requiring that everything pretty much has to pass through them (or just vibrate the rest of your head instead.)
"Be Aware" Mode
One sub-feature that I will add is one that JLab calls "Be Aware Audio" or, as I tend to call it, "Awareness Mode", and one that Apple (and, apparently, Sennheiser) calls "Transparency mode."
In either case, the effect is pretty much the opposite of noise cancellation: it uses the built-in microphones (and a little gain control) to play back sounds in the environment so you can still hear what's going on around you. Now this is really cool in my opinion. I'm not an AirPods person, but I can tell you that with the Air Sport, they have a very heavy bias towards the high-end, which seems to me to help be heard over most of my (rather bass heavy) track selection. I personally still find it hard to listen to music and still carry a conversation even with that enabled, but we can likely chalk that up to a me thing, your results may vary.
Movie Mode (New!)
Also known to normal people as "low-latency" mode. The default Bluetooth and/or processing profile on these can introduce a little bit of audio latency. Movie mode reduces this latency, probably by switching to another profile, meaning you're probably taking an imperceptible quality hit to get audio that syncs up with any visual content.
Now the best part about this is what they say on their website:
With this mode we reduce the distance the Bluetooth signal travels so we can focus on a stronger, tighter connection while you're watching movies.
No, you don't. You cannot make radio waves travel less when they still need to get from point A to point B, and A and B are a set distance apart. Every nerd in the room, please, point and laugh.
Equalizer
The AirPods Pro report having an "adaptive" equalizer, which I'm assuming is Apple trying to say that the exact EQ params will be tailored to what you're listening to, which sounds (heh) cool, but also, I think, might not be as useful as you think, since it's entirely possible it can make things worse if it picks the wrong knobs to turn.
The Air Sport have a simple three EQ modes, no EQ, a bass-boost EQ, and "JLab Signature," which is according to the marketing graphic (and personal experience), a bass and treble boost, so you can still get some clarity with your head-rattling basslines.
Dust & Sweat Resistance
Major problem: the regular AirPods have no rating for resistance here. Apple, fail.
For the rest, the Air Sport are rated IP66, and the AirPods Pro are rated IPX4. For normal people, let's explain the IP categories.
IP Ratings
IP, or Ingress Protection, is a standard for measuring how well casings and enclosures can resist things like dust and water. The purpose is to give more concrete results than labels like "dust resistant" and "waterproof." At its most basic form, an IP rating is of the form IPab, where a and b can either be numbers or an "X", which means insufficient data has been gathered. The first digit is solid resistance, and the second is liquid resistance.
Solid
This is measured on a scale from 0 (meaning no protection), to 6 (meaning 100% dust-tight.) For the two that matter here, the AirPods Pro have not been assigned a digit for this yet (hence the X), and the Air Sport are completely sealed and dust-proof. If I had to guess what the Pros would get, I'm betting either a 4 or a 5, anything below that can be ruled out.
Side note: 1-4 are for physical contact with inside components, only 5 and 6 are defined in the range of actual dust particle protection.
Liquid
This is a 0-8 scale, though it's weird. 0-6 are cumulative measures, with each one being more strict than the last. 7 and 8 are for immersion in water specifically, and do not deal with anything else. A device that is rated for high pressure water and water immersion should be labeled as "IPX6/IPX8" or similar.
The Air Sport have gotten a 6 here, meaning it withstands "powerful water jets" from any angle, which you can assume means that it can take a splash or two. They are, by this definition, not rated for being submerged in water so I don't know how much I would trust swimming with them in, but barring that, it looks like they should withstand any day-to-day liquid contact.
One small side note on them though: the Cloud Foam™ tips, like I mentioned before, appear to be made of the same memory foam that earplugs are made of. Well if this is true, then I can tell you from personal experience that the foam will degrade when exposed to water. Specifically, if any is allowed to be absorbed in, like letting the foam expand when in contact with water, then the water will break down the structure inside that gives it it's elasticity, and it pretty much just becomes normal foam with no special effects or pirouettes whatsoever. This may not be the case, but until I get some spares to test with, well I can just assume that it might not be a good idea though. If you use the silicone tips, well those don't care about water at all, you'll be fine.
The AirPods Pro on the other hand have.. 4, which is "splashing of water", which from the definitions I'm reading, doesn't seem to imply that the water is under any real pressure, just that it's being thrown towards the device. I'll interpret that as being sweat resistant, maybe even capable of standing up in a light drizzle, but there is a definitely limit to how much they can handle.
Battery life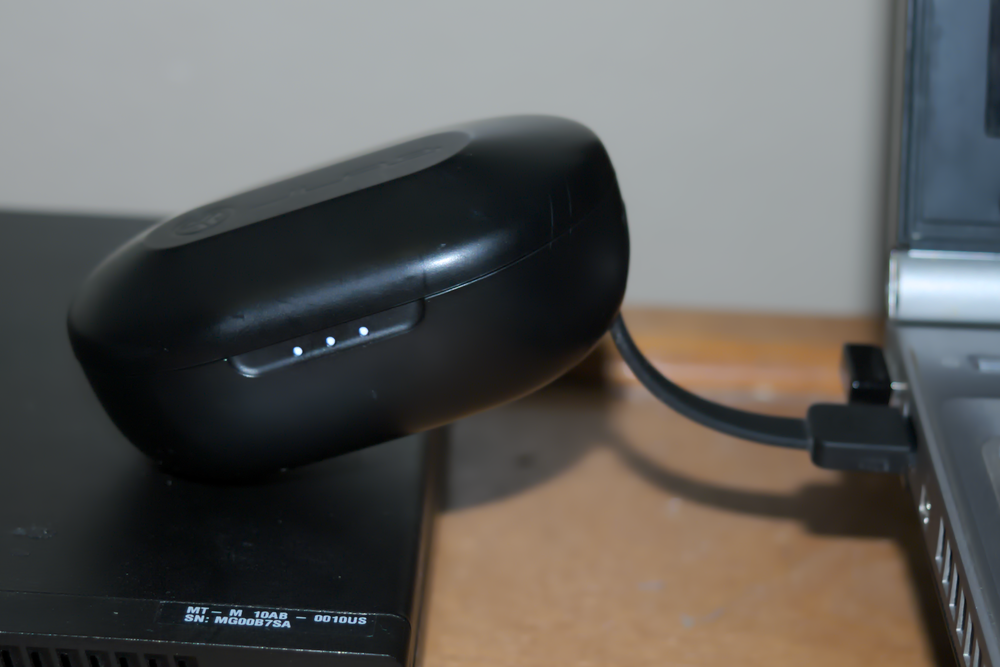 Admittedly, the longer battery life in both case and bud is likely why the JLab product also weighs a bit more, because batteries aren't light. Though in my opinion, the battery life of the earbuds themselves isn't too important. I'd prefer something that can last around 5-6 hours, but all three products here charge just about as soon as you put them into the case, meaning the moment you're done listening, they're regaining charge.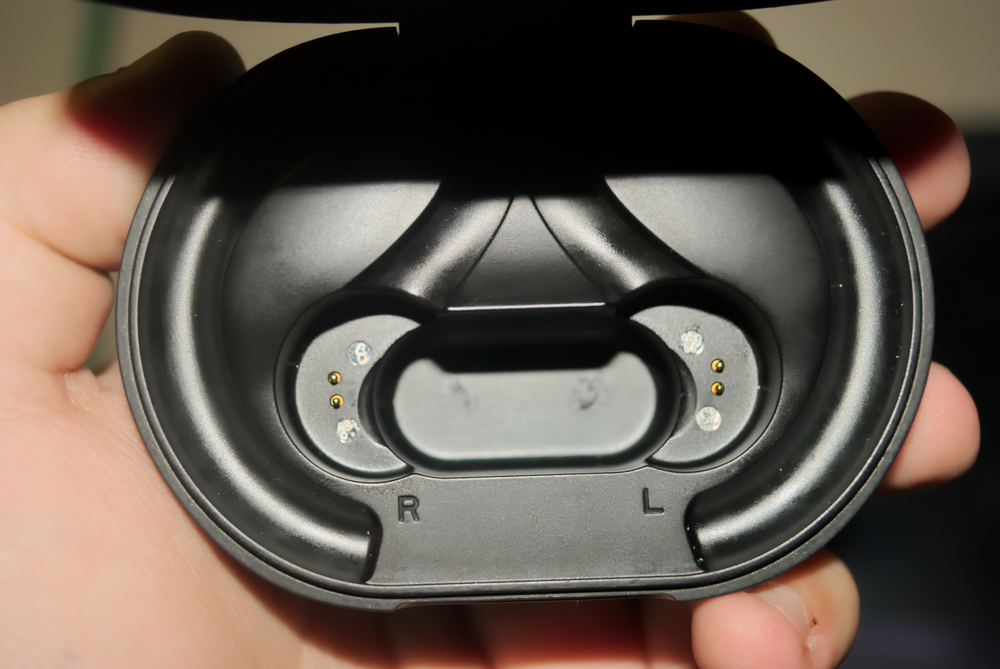 Size and Weight
I do have to hand it to Apple, the AirPods are tiny things, but I don't know if that's necessarily good or not. You look at the Air Sport case and…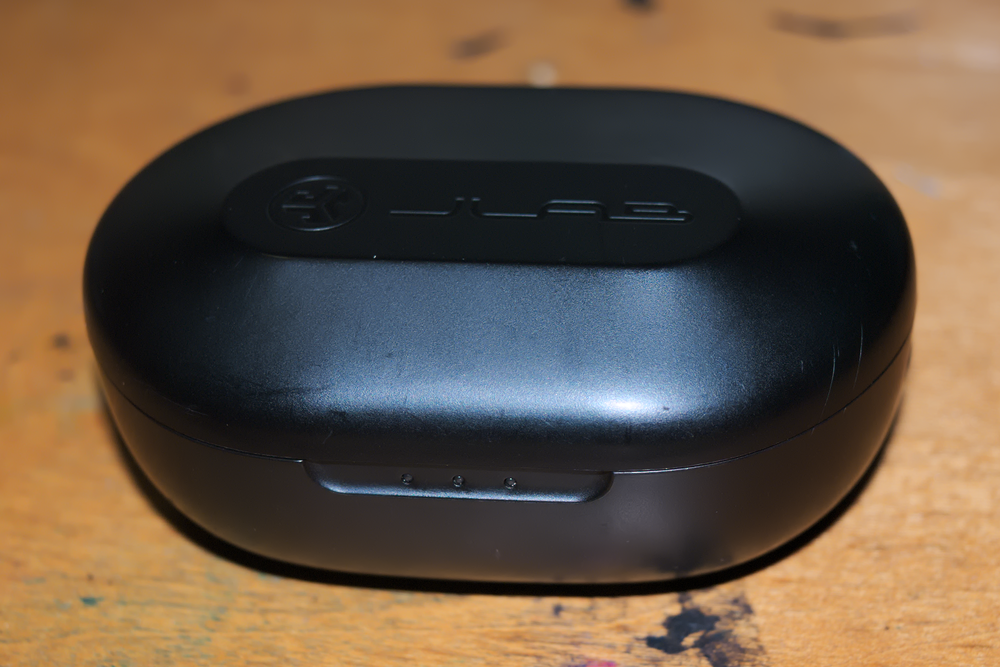 yeah.
New since last time

Recently, they switched from shiny black case plastic, to matte-black. So if you buy a pair right now, it's likely going to look a tiny bit different.
Speaking of the case though, the Air Sport case has indicator lights, three LEDs on the front. They use white to display information about the case battery, and blue to display information about the bud batteries. When white, they show the level of the case's battery in thirds, as you might expect. When you place the buds in to charge, the appropriate light (right or left) will turn a pulsing blue to tell you that it's charging, and it will go out when done. This mimics the blue LED on the earbud itself when it's charging.
Anyways, the nice thing about both types of AirPods is that the case is truly pocket-sized, you can take it with you just about anywhere. The Air Sport case is more palm-sized, it can fit in a not-super-tiny pocket, but it's likely not going to play nice if you have a bunch more stuff in there (plus scratches!)
And while the Air Sport product is heavier, it's actually not that bad, especially earbud weight. In my opinion, my ears started to hurt from having the little over-ear hook rub against it (I have very weird head geometry, that happening is likely just a me thing) than from the weight of having those hanging off said ears. They also have enough weight that it doesn't feel like they'll fly off into the breeze either, which I like.
Charging
Both the AirPods and AirPods Pro cases charge via a Lightning connector, meaning any old Lightning cable will work with them.
The Air Sport case, on the other hand, has a built-in USB-A cable in the bottom of it: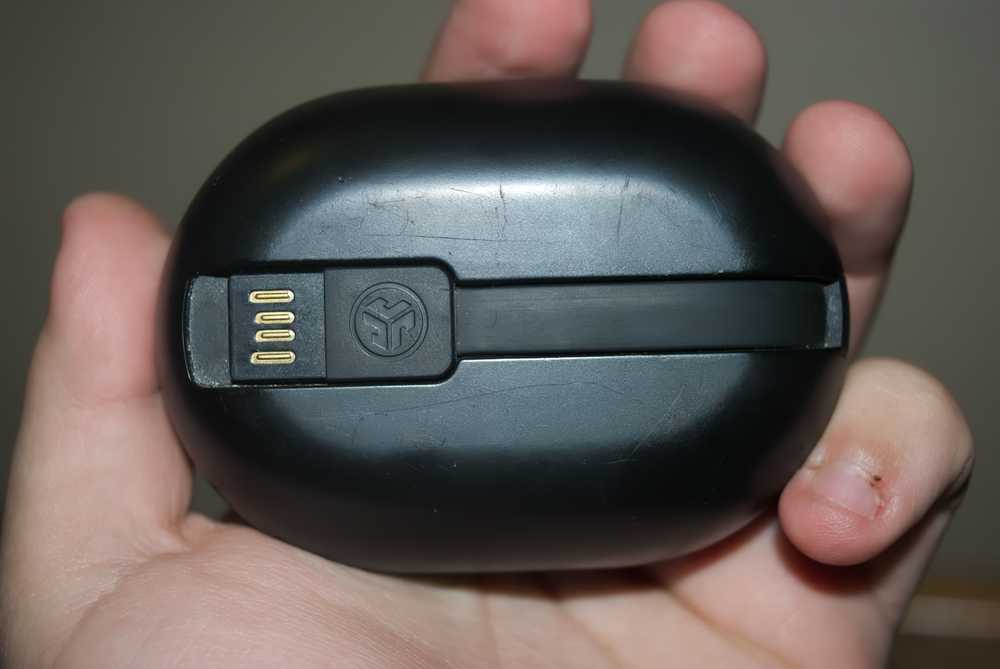 Okay that is indeed a little short, and it has no adapter so you can't just plug one into the wall, you'd need to carry a USB adapter separately for that (or a battery bank). To extend the cable, you'd need… a USB extension cable, not the most common thing in the world but they do exist and are readily available, and with a good enough one I can indeed charge my buds off my phone, neat. This means that you likely can't stop and charge the case in the middle of the day, but plugging it somewhere into a spare powered USB port during the night shouldn't be that hard, and after 6-8 hours of charging, it should be plenty ready for the next day's use.
Also of note is the particular design of that cable: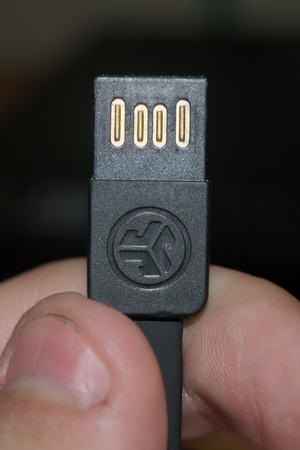 You'll notice that there's no metal shroud over the pins, and I can tell you (even though you can't see it) that it looks the exact same on the other side. This is a reversible USB plug, it can go in either direction, since it's only just as big as the opening. Slim, easy to store, and takes out the biggest hassle of USB? Sure, I will gladly take that one.
Connectivity (New!)
And the final point I'll make here, connectivity. All three products take advantage of Bluetooth 5.0, and I'm assuming support the standard headset, hands-free, and advanced audio profiles for Bluetooth devices. They do transmit battery level to your device, meaning it can show a battery indication if supported. However, you can't send two indications, so I'm assuming it's using the "primary" bud's battery as the one that's being described. Of note, with the Air Sport, the right earbud has the primary Bluetooth radio, so if you're only using one, it needs to be in the right ear. Actually, this is false. Given that the product has been updated since I originally wrote this (hence the update!), I've noticed that the manual says that either bud can be used individually, it's no longer just the right one that needs to remain active, and I've confirmed this is true. However given that they don't remap the inputs, this means that wearing the left bud only means you cannot:
Increase volume
Play / pause media
Skip to next track
Answer calls
End calls
Toggle Be Aware mode
Really that kinda cripples the functionality? I mean if you only wore the right you'd only lose:
Decrease volume
Siri / Ok Google
EQ change
With this change, I wonder how they handle sharing the single Bluetooth device, but given that only one says "Bluetooth connected" when you turn them on, I assume they're capable of talking with each other (as before), whichever one said it was connected is the "primary" device, and the other is the "secondary".
Interface
Not really a comparison anymore, just adding information. The actual JLab logo on both buds is a touch sensor, and different combinations of touches send different commands. For example, a triple-tap on the right will toggle Be Aware, a tap on the right increases volume, and a tap on the left decreases. double-tap right to play/pause, hold right to skip to the next track, hold left to skip back, you get the point. And yes, they do have inputs for calls so you can handle those hands-free too, neat. As for if the mic is quality enough to be used for that, well when Bluetooth isn't upset about the amount of RF in my room, it seems just fine, though it sounds (naturally) like you're on speakerphone, since, well, you kinda are in a way.
They also speak to you, with things like "Hello" and "Goodbye" for turning on / off, "Earbuds joined" for when the two connect, and "Bluetooth connected" when it's established a link to a device. There's only a few specific prompts, but they get the point across easily.
New since last time

Previously, enabling awareness mode would play a single low-pitched "bong" sound, and disabling played two. Now, there's voice responses for this. I'm personally not a fan, it takes longer to actually say "Be aware" and "Be aware off" than it does to play a sound cue, and if I'm enabling that feature to hear someone talk, I don't need something else saying something and messing me up.
Conclusion
Are these a keeper for me? Yes. Would I recommend them? Yes. Do I think that they really show just how much Apple products cost that's just beyond reasonable? Yes. Will these replace my headphones though? No.
See, as much as these sound better than the Bose SoundLink AE 2 that I have lying around, they still take the cake for battery life, and the ability to have a wired connection (albeit with a sub-mini 2.5mm connector on the device itself instead of the common 3.5mm) is something that I'll keep around for quite a while. Yes, earbuds are a lot lower profile than headphones, and you can still see the Air Sports when they're warn, but something about a pair of headphones gives a much different impression socially.